The 2021 Subaru Love Promise Community Commitment Award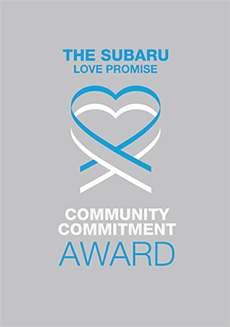 We've been nationally recognized for our dedication to our community and the Subaru Love Promise.
We're honored to receive the 2021 Subaru Love Promise Community Commitment Award. This award nationally recognizes Subaru retailers who are making the world a better place while demonstrating an outstanding commitment to supporting passions and causes in local communities. These efforts are focused in important areas such as the environment, community, health, education, and pets.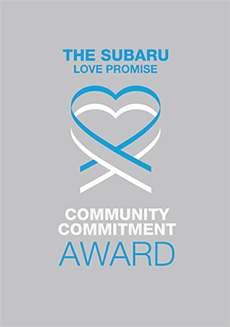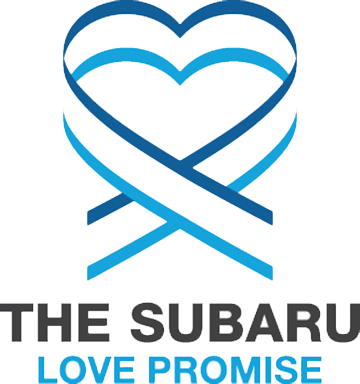 What is the Subaru Love Promise?
Subaru and our retailers believe in making the world a better place and the Subaru Love Promise is our vision of respecting all people. This is our commitment to show love and respect to our customers and to work to make a positive impact in the world.
How is Lithia Subaru of Great Falls dedicated locally to the Love Promise?
Our Love Promise can be seen in various partnerships with local charities and non-profits. We're grateful for the opportunity, not only to be a part of our community, but to serve it as well.
Mclean Animal Adoption Center
Sunnyside Elementary School
Love Promise Stories from Lithia Subaru of Great Falls
Subaru and Lithia Subaru of Great Falls believe in making a positive impact on the communities in which we live and work. We uphold that belief through our Love Promise Community Commitment. Every month, we select inspiring stories from customers and partners from around our area who strive to support our collective commitment and feature them here
Subaru of Great Falls, MT Gives Back - Jeff T
To provide decent and affordable housing in the Great Falls we needed a new construction truck to accommodate the increase need of housing in our community In January 2021 we approached Mark McCarthy the General Manager of Subaru, Great Falls and asked if he could help us to find and purchase a used truck for Habitat for Humanity. He didn't hesitate for a minute to offer his assistance after we explained our need and mission to help the local community. He said "let me work on it". His team found a perfect truck for our need and they worked a deal for no cost to Habitat for Humanity. The money this allowed us to save goes directly back to support our local build mission. 2021 is an important year and marks our 30th Anniversary for Habitat for Humanity in Great Falls and this donation could not come at a greater time. There are not enough kind words to express our sincere thanks to Subaru in Great Falls. Mark you and your staff are truly amazing! The Great Falls area is lucky to have an organization like Subaru Great Falls…THANKS!!!
---
Local Homeless Shelter receives blankets - Molly M
Great Falls Rescue Mission provides shelter for homeless men, women, and children in Northcentral Montana. We provide meals and shelter to an average of 220 people each night. Due to the often harsh climate in Montana, our guests are always in need of warm clothing. Subaru generously donated over 80 blankets to our shelters right before Christmas. These will be given to homeless individuals coming directly off the streets. We are so grateful for partnerships like this one. Thank you Subaru for helping those who are in need this holiday season!
---
Christmas miracles - Gloria P
I'm a volunteer with Ryan's Friends of Great Falls. My story starts with hearing the story of Big Brothers Big Sisters. They needed a used van. They went to Subaru of Great Falls to make a deal on a van. hey got a great deal. Subaru gave them a new van. Subaru of Great Falls plays a big part in the meeting the needs of Great Falls, from Big Brothers and Big Sisters to the homeless shelter to the woman's center. They are also a big part of my life and I am grateful for what they do for my group, Ryan's Friends. For years the schools gave us the names of kids and families in need at Christmas. So where do I go for help -- Subaru of Great Falls. They help us see that the families in need get new coats and clothes and, of course, toys. The toys are my job. It warms my heart when I picture a toddler waking up to find a present under the Christmas tree. I appreciate working with Subaru of Great Falls -- they are always ready and willing to help!
---
Lithia Subaru of Great Falls Loves Pets - Reid V
With the support of the ASPCA and Subaru we were able to hold and adoption event with Lithia Subaru of Great Falls. This partnership allowed us to reach more of the community and explain the need of homeless pets in our area. With their sponsorship of the animals we were able to find homes for many of the pets at our facility. The continued support of Lithia helps our mission of compassion through education. It is local businesses like this that help make our community great. Thanks Lithia!
---
Thank You from Sunnyside! - Ryan H
Thank you so very much for the kind donation to our school and our students. Your gift of nonfiction books are amazing. We often pick up fictional texts, but these are tremendous and will hopefully spark that "extra" interest for our students of the world around them. That is so important for students today. These will be spread throughout the school, as there is a great selection for all ages. Amazing!Subaru also provided school supplies including paper, writing utensils, sharpeners, pencil boxes and almost every supply you can imagine. This included backpacks. At Sunnyside (and every other school as well), we often get students mid-year lacking the essential supplies need to be successful. We fill these backpacks with all of the needed items so that they begin their new school prepared. What an amazing gift that eases a student's transition into a new school! Thank you once again. Ryan HartSunnyside Principal
---
Lithia Subaru of Great Falls - Lance B
Dear Lithia Subaru of Great Falls, Sunnyside elementary in Great Falls, Montana would like to take the opportunity to thank you for the incredible gift you gave our students.! Students loved picking from the beautiful books that you donated to us. Students could not believe that these beautiful books that you donated to us. Students could not believe that these beautiful books were theirs to keep, take home and treasure. Many of our children struggled to choose a book, because there were so many beautiful choices. The school also appreciated the back to school supplies. We are a Title 1 school and have many students that cannot afford to bring their own school supplies. Your gift went a long way in making all students feel prepared, ready, and excited to learn. Thank you again for supporting Sunnyside Elementary! Student, teachers, and principals appreciate great businesses like Lithia Subaru of Great Falls. You certainly help us to continue to succeed! Thank you, Mr. Boyd
---
Thank You Lithia Subaru of Great Falls! - Alex B
Big Brothers Big Sisters wants to send a BIG thank you to the staff and customers at Lithia Subaru of Great Falls for supporting our organization for another year! We cannot thank you all enough for your continued support of the kids in our program. Lithia Subaru of Great Falls donated $6,500 to Big Brothers Big Sisters through their Share the Love campaign. This extremely generous donation will help us match 5 Littles (kids) with Bigs (adult, volunteer mentors) in our community. We are so proud to be a part of the Great Falls community and are so thankful to Lithia Subaru of Great Falls for again choosing our organization to participate in the Share the Love event. For more information about how to become involved with Big Brothers Big Sisters, contact us at 406-453-5521.
---