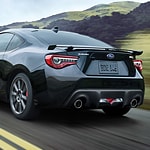 We appreciate unique cars at Lithia Subaru of Great Falls. The Subaru BRZ is quite unique. While most Subaru models feature aspects that can take you a variety of places, the BRZ will take you around a track faster than any other Subaru. You can witness this power-packed sports coupe right now at our Great Falls location.
First, you will notice the BRZ's swooping elegance. Subaru built this car to slice air. You can enhance your BRZ with a paint spectrum that features two shades of white, an unforgettable blue and a dark hue called Crystal Black Silica.
Subaru builds this auto with a 205-horsepower Boxer engine. As with other Subaru models, the horizontally opposed Boxer gives the BRZ a lower center of gravity and better handling than the average model in its class. Subaru offers manual and automatic BRZ transmissions. The manual features six speeds, and the automatic provides shift paddles. Expect to love the drives this Subaru provides.