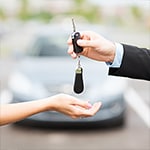 For many drivers, buying a used car can be an uncertain process. It's much easier, however, if you go into it with the right information and frame of mind. We here at Lithia Subaru of Great Falls have a supply of high-quality used vehicles on our lot right now, and we invite you to stop by for a test drive at your convenience.
The first step to getting the used vehicle that you want is to decide on your budget in advance. Research a wide variety of styles and brands to settle on the one that's right for you.
Begin the process of locating similar vehicles in your area. Test drive any vehicle that you're seriously considering under the same conditions that you normally drive in. If possible, review a vehicle history report or request one from the seller as you're shopping around, and use all the available data to make your final decision.