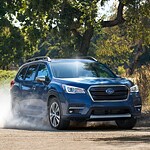 Many of our customers at Lithia Subaru of Great Falls ask us about the best vehicle choices when it comes to technology. The Subaru Ascent tops our recommendations. This three-row SUV is equipped with multiple features that will help you enjoy the experience of owning an Ascent.
This SUV is equipped with 4G LTE Wi-Fi that comes standard on all varieties of the Ascent. There are also a total of eight USB ports on the SUV that allow everyone in the family to connect their favorite devices. You can even upgrade to a complete entertainment package that includes two Apple iPads. The technology used in the Ascent is also what powers its security and safety features.
We want to invite you to give us a call or visit us here in Great Falls today. We will be very happy to show you the Subaru Ascent and let you test drive it. Come on down and see for yourself why Subaru continues to lead the way in vehicle technology.